The Andrew Jackson celebrity doll portrays him as himself, the seventh president of the United States from 1829 to 1837. The talking doll was made by ToyPresidents, Inc. in 2005.
The President Andrew Jackson doll comes wearing a soft cotton black corduroy period suit including a knee length coat with cold buttons puffy sleeves, collar, and long cuffs. The coat and cuffs have tiny black snap closures. The ankle length matching black corduroy pants have a flap over the front with a fly underneath with snap closures and tiny black decorative buttons. Underneath the suit is a shiny satin double breasted with gold decorative button vest. The vest has two snap closures in the front. Under the vest is a white long sleeved cotton shirt with a high collar an small snap closed opening in the front and snaps at the cuffs, A satin ribbon bow tie is on tied over the collar.
The shoes are long toed black period buckle slip on shoes and the extra long socks go all the way to the top of the thighs. There is no underwear on President Jackson.
The face is painted with blue eyes, light pink lips, molded gray hair and sideburns.
The talking action figure plays 32 different speech segments and phrases of President Jackson through a front speaker when you press on the lapel.
To hear the audio track of Andrew Jackson's words in an actor's voice recorded from the belly speaker, click below:
The doll is fully articulated at the neck wrists, elbows, shoulders, neck, waist, hips, knees, and ankles. Head goes side to side and tilts. Waist twists with a little bend up and down. Shoulders and hips rotate 360 degrees. A three LR44 battery compartment is on the back with a stamped Toypresidents . On the front chest is the play button lined up where the lapel sits and holes for the speaker.
Accessories include an official Toypresidents biographical brochure called The Road to the Andrew Jackson Presidency, The 7th President and a black plastic doll stand.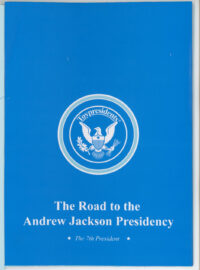 Read the official Toypresidents biographical pamphlet on Andrew Jackson in PDF format
Use these links to price check the Andrew Jackson Toypresidents doll. The Celebrity Doll Museum has affiliate accounts with Ebay and Amazon and a small commission is paid for qualifying purchases.
To see the complete list of ToyPresidents and TimeCapsule dolls from Toypresidents, Inc original website in 2008, use this link.
Complete list of Toypresidents, Inc. dolls from 2008. – A screen capture from their website.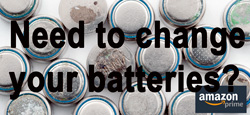 To see all the ToyPresidents/Timecapsule Inc. dolls in the Celebrity Doll Museum collection use this link: Celebrity Doll Museum collection of ToyPresidents/Timecapsule Talking Action Figures.