The Hillary Clinton celebrity doll depicts her as the 42nd First Lady of the United States. The doll was manufactured by ToyPresidents, Inc. in 2005 as part of their First Ladies Edition. Other First Lady dolls in the collection included Laura Bush and Jacqueline Kennedy.
It is a talking doll that says 25 phrases in Hillary Clinton's voice like "When the country needed new leadership, our country selected a Democrat who gave us 8 years of peace, prosperity, and promise. " or "For Bill and me, there has been no experience more challenging, more rewarding, and more humbling than raising our daughter. " by pushing on the top middle of the doll back. The 3 button batteries (LR44/L1154) are changeable.
Hear the Hillary Clinton ToyPresident's doll audio track from belly speaker:
The doll is also articulated at all the major joints including wrists, ankle, and the toes. One of the few female dolls made with articulated ankles and regular non-high heeled shaped feet.
The doll wears a salmon pink satin women's suit and beige pumps with a one piece cotton body suit underneath. The hair is two toned blond molded plastic. This doll is a high quality collector's doll designed as an educational toy for playing.
Included in the box is an official Toypresidents biographical pamphlet The Life of First Lady Hillary Rodham Clinton and a black adjustable doll stand inside the box insert. The booklet timeline ends just as Clinton is elected Senator.
The Celebrity Doll Museum also features her husband William J. Clinton.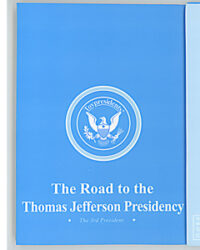 Read the official Toypresidents biographical pamphlet on Hillary Clinton in PDF format
To see the complete list of ToyPresidents and TimeCapsule dolls from Toypresidents, Inc original website in 2008, use this link.
Complete list of Toypresidents, Inc. dolls from 2008. – A screen capture from their website.