The Theodore Roosevelt celebrity doll depicts him as the 26th President of the United States. The doll was manufactured by ToyPresidents, Inc. in 2003 as part of their Commemorative Edition. Teddy Roosevelt won the Nobel Peace Prize in 1905 for helping to end the Russo-Japanese War.
It is a talking doll that says 25 phrases in Theodore Roosevelt's voice like "The welfare of the farmer is a basic need of this nation" by pushing on the lapel of the suit. The 3 button batteries (LR44/L1154) are changeable.
Hear the Theodore Roosevelt Toypresidents action figure sound track recorded from the belly speaker:
This doll has truly remarkable clothing: a brown Presidential suit that has hand tailoring details of the 1900's. It includes a lined overcoat, a tan vest with tiny little black buttons, suspenders with real suede hardware, a white starched shirt, gold colored cuff-links, black shoes and socks, and teddy bear boxer shorts underneath it all.
It also contains an official Toypresidents biographical pamphlet on President Roosevelt and a black adjustable doll stand inside the box insert.
The doll is also articulated at all the major joints including wrists and ankle. This doll is a collectors doll and an educational toy for playing.
Price check the Theodore Roosevelt doll on Amazon
Price check the Theodore Roosevelt doll on Ebay
Read the Theodore Roosevelt Toypresidents biographical pamphlet in PDF format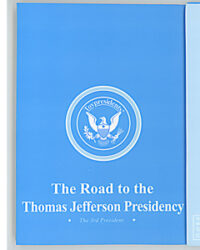 To see the complete list of ToyPresidents and TimeCapsule dolls from Toypresidents, Inc original website in 2008, use this link.
Complete list of Toypresidents, Inc. dolls from 2008. – A screen capture from their website.