The Woodrow Wilson celebrity doll depicts him as himself, the 28th President of the United States. Wilson was a former Princeton University president and governor of New Jersey. The doll was manufactured by Toypresidents, Inc. in 2005. Woodrow Wilson won the Nobel Peace Prize in 1919 for his push to join the League of Nations.
It is a talking doll that has an actor's voice saying 20 Woodrow Wilson unique and authentic phrases like "We want to establish a real partnership between all the people and the federal government instead of between special interests and the government," "There never was a time when impatience and suspicion were more deeply aroused by private powers selfishly employed." and "If you think too much about being reelected, it's very difficult to be worth reelecting." by pushing on the lapel of the medium gray hand-tailored suit.
Hear the President Woodrow Wilson ToyPresident's audio track from the doll's speaker:
The clothing is above average on this Toypresidents doll with hand tailoring details that are true to the 1910's time period like traditional worsted wool styling, a vest, and suspenders. Extras like tiny buttons and snaps sewn on, removable clothes, elastic stirrups keep pants down and shirt tucked in make it both a collectors' doll and an educational doll for playing. Unfortunately the doll did not come with Wilson's wire rim glasses.
The doll wears a wool grey suit with tiny gray buttons on the front, closure by snaps. Matching grey pants with snap in front fly held up by real leather connected. elastic suspenders and no belt complete the outfit. The shirt is pink, blue and white striped cotton with a white color and white tiny button held shut by snaps. The silk tie is burgundy with white stripes with a matching handkerchief in the top pocket. Black plastic dress shoes and black knit socks finish off the feet.
Underneath the pants, the doll has blue cotton boxers with the words "New Freedom" written across the back side in white letters. Toypresidents personalized the boxers of many of their president dolls.
The dolls body has black molded hair. Above the battery compartment the Toypresident's seal is stamped into the back of the torso.
It also contains an official Toypresidents biographical pamphlet on President Woodrow Wilson and a black adjustable doll stand in the box insert. The 3 button batteries (LR44/L1154) are changeable. The doll is fully articulated at the major joints including wrists and ankles and very easy to pose.
Price check the Woodrow Wilson action figure doll on Amazon
Price check the Woodrow Wilson action figure doll on Ebay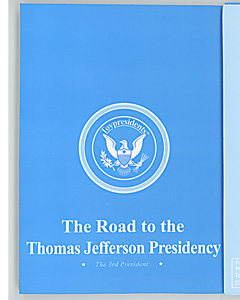 Read the official Toypresidents biographical pamphlet on Woodrow Wilson in PDF format
To see the complete list of ToyPresidents and TimeCapsule dolls from Toypresidents, Inc original website in 2008, use this link.
Complete list of Toypresidents, Inc. dolls from 2008. – A screen capture from their website.