The George H. W. Bush celebrity doll depicts him as the 41st President of the United States and was made by Toypresidents, Inc. in 2003. President Bush served from January 20, 1989 until January 20, 1993. Prior to becoming President he served as Vice-President under Ronald Reagan and Director of the Central Intelligence Agency.
It is a talking doll that has H W Bush's voice saying 25 unique and authentic phrases like "Read my lips, no new taxes" by pushing on button under the lapel of the navy Presidential suit. The 3 button batteries (LR44/L1154) are changeable.
Hear the audio track from the George H W Bush action figure belly speaker:
The doll is fully articulated at the major joints including wrists and ankles and very easy to pose. The action figure also comes with an official Toypresidents biographical pamphlet on President Bush and a black adjustable doll stand in the box insert.
The HW Bush action figure comes wearing a dark navy blue suit with front pleated pants, white dress shirt with gold colored cuff links, burgundy and white striped silk tie, black dress shoes and black socks. Underneath the clothes are white cotton boxer short have C.I.A. printed on the rear.
Other celebrity dolls from the Bush family include son George W. Bush and daughter-in-law Laura Bush.
Price check the George HW Bush doll on Amazon.
Price check the George HW Bush doll on Ebay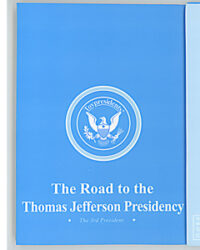 Read the official Toypresidents biographical pamphlet on President Bush in PDF format
To see the complete list of ToyPresidents and TimeCapsule dolls from Toypresidents, Inc original website in 2008, use this link.
Complete list of Toypresidents, Inc. dolls from 2008. – A screen capture from their website.