Dan Aykroyd (Ghostbusters)
The Dan Aykroyd celebrity doll depicts him as Dr. Raymond Stantz from the 1984 Ghostbuster movie. Mattel made this 12 inch action figure in 2009 for the 25th anniversary and it retailed for around $60. It was part of the
Matty Collector Ghostbusters 12 Inch Toy Line.
The Ghostbusters 12 inch dolls were release individually in 2009 and 2010, follow by the Ghostbusters 2 sets of two dolls in 2011. Ghostbusters 2 Movie Masters 2-Pack with Winston Zeddemore and Peter Venkman and Ghostbusters 2 Movie Masters 2-Pack with Ray Stantz and Egon Spengler
The Celebrity Doll Museum has the following Ghostbusters action figures in the collection.
Bill Murray: Dr. Peter Venkman
Dan Aykroyd: Dr. Raymond Stantz
Harold Ramis: Dr. Egon Spengler
Ernie Hudson: Winston Zeddmore
This Dan Aykroyd doll comes wearing a one piece beige cotton jump suit with details like sewn on zipper pulls on the front and pockets, Stantz name tag, air hose outlet built in, Ghostbuster decal on the arm, and a Velcro closure up the back and cuffs. Removable gray microfiber elbow pads/arm bands. A detailed white utility belt with black plastic miniature closures with black and silver doodads and holders is around the waist. Black plastic work boots and black gloved hands come on the action figure—both are removable. A spare set of ungloved hands comes in the accessories locker. Underneath the jumpsuit is a black cotton short sleeved t-shirt with a Velcro closure in the back.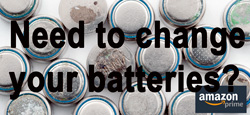 The Ghostbusters proton backpack and blaster comes with 3 LR44 batteries installed and rotating red lights go off on the back when you push the button. The green backpack straps are miniature versions of real working plastic black buckles and nylon yellow green strapping. The detail on the backpack is both complex and astounding.
The accessory locker includes a ghost trap with working lid. Press a button on the back and the top springs open. It includes the particle accelerator, wand, goggles, walkie-talkie, extra hands, and portable trap.
The Akroyd action figure is articulated at the ankles, knees, hips, waist, shoulders, neck (tilts and turns), elbows, and wrists. The plastic doll display box came enclosed in a white cardboard outer box.
The Celebrity Doll Museum also has two other versions of Dan Aykroyd: Dan Aykroyd (Blues Brothers) and Dan Aykroyd (Blues Brothers 2000)
Find out what the Dan Aykroyd Ghostbusters action figure is worth today with these links.