Diana Princess of Wales (talking)
The Princess Diana celebrity doll portrays her as herself the Princess of Wales. The talking doll was made by ToyPresidents/TimeCapsule Inc. in 2005.
From the box:
Princess Diana

The collector quality Talking Action Figure

16 unique and authentic phrases:

"I would like to be queen of people's hearts."
"And I want to do good things"
"My years at West Heath were certainly very happy ones indeed. I made many friends who I often see and in spit of what …and my other teachers thought at the time, I actually did learn something."
"It is, but I've had a small run out for the last 6 months (laughs) and I expect Charles and I can't go wrong, he's there with me."
"I don't sit here with resentment; I sit here with sadness because a marriage hasn't worked. I sit here with hope because there is a future ahead, a future for my husband, a future for myself, and a future for the monarchy,"
"I have it, on very good authority that the request for perfection out society demands can leave the individual gasping for breath at every turn."
"This pressure inevitable extends into the way we look. Eating disorders, where it's been anorexia or bulimia, show how an individual can turn the nourishment of their body into a painful attach on themselves."
"Whatever uncertainties the last few weeks may have brought, I want you to be certain of this: our work together will continue unchanged, especially now as Christmas brings its own painful stresses to so many people in need—the sick, the old, the handicapped, the homeless, the lonely, the confused and the simply unloved who are needing your help more than ever."
"A normal day we'd be followed by 4 cars. A normal day we'd come back to my car and find six freelance photographers jumping around me. Some people say that if you had a policeman makes it easier, it doesn't at all. They decided that I'm still a project after fifteen, sixteen ears—it sells well."
"There's far too much about me in the newspapers, far too much. Horrifies me when there's something more important like what goes on in the hospice or there's been a bomb or something, they'll put me on the front page."
"When I started my public life I understood the media might be interested in what I did. I realized then their attention would inevitably focus on both our private and public lives."
"But I was not aware of how overwhelming that attention would become, not the extent to which it would affect both my public duties and my personal life in a manner that's been hard to bear."
"My first priority will continue to be our children, William and Harry, who deserve as much love and care and attention as I am able to give, as well as an appreciation of the tradition into which they were born."
"But it was through friends I wanted to teach children. They said, 'why don't you come along?' So, I first started off doing afternoons, and then I took over mornings, then whole days."
"I would like to become an ambassador for this country. I'd like to represent this country abroad. As I have all this media interest, lets not just sit in this country and be battered by it, lets take them, these people out and to represent this country and the good qualities of it abroad."
"When I go abroad, we've got 60 to 90 photographers just from this country coming with me, so lets use it in a productive to help this country."
The action figure has a soundtrack where it says one of 16 unique phrases or statements recorded in Diana's voice when you push a button on the doll's back. Phrases include:
The follow is a recording from the belly speaker of the Princess Diana doll of the entire soundtrack.
The doll come wearing a white lined real silk suit with snaps closure on the jacket and skirt. White stretch body suit underneath and white plastic pump shoes on the feet.
Articulated at ankles, knees, hips, shoulders, elbows, wrists and neck. Blond molded Diana hair style. It may be particular to the museum's doll but there is a slight orange tinting around the hair line.
The Celebrity Doll Museum also has the Goldberger Princess Diana doll in the collection, along with the Mattel Platinum Kate Middleton and Prince William Barbie doll set.
To get the current prices of the TimeCapsule Toys Princess Diana talking action figure try these links (it was a limited run so the doll is not always available for sale):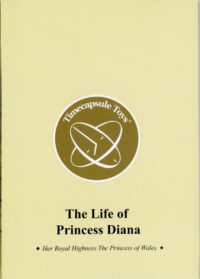 Read the Princess Diana TimeCapsule Biographical Booklet in PDF format.
To see the complete list of ToyPresidents and TimeCapsule dolls from Toypresidents, Inc original website in 2008, use this link.
Complete list of Toypresidents, Inc. dolls from 2008. – A screen capture from their website.