The Ella Fitzgerald celebrity doll depicts her as herself an American jazz singer in her late 20's or early 30's. Fitzgerald, the 'Queen of Jazz' has won fourteen Grammy Awards including her lifetime achievement award, the National Medal of Arts, and the Presidential Medal of Freedom from President George W. Bush. Ella Fitzgerald died in 1996 at the age of 79. The doll was made by Mattel and released on 2/19/2020 as part of the Inspiring Womenâ"¢ Black Label Signature collection and retailed for $29.99. The doll was design by Carlyle Nuera.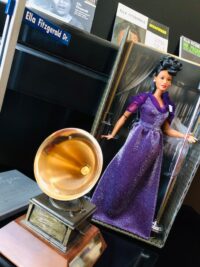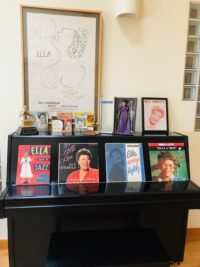 The Ella Fitzgerald Foundation has their doll proudly displayed with one of Ella's Grammy Awards right on top of Ella's piano. To learn more about Ella Fitzgerald or donate to Ella's charity please visit them at
http://www.ellafitzgeraldfoundation.org/ or http://www.facebook.com/ellafitzgerald.
The Celebrity Doll Museum is honored they took the time to leave a comment down below
From the box:
Ella Fitzgerald

JAZZ SINGER
(1917-1996)

"JUST DON'T GIVE UP WHAT YOU REALLY WANT TO DO."

– ELLA FITZGERALD

Barbie® recognizes all female role models. The Inspiring Women™ Series pays tribute to incredible heroines of their time,; courageous women who tollk risks, changed rules, and paved the way for generations of girls to dream bigger than ever before.

A chance opportunity to perform at the famous Apollo Theater catapulted Ella Fitzgerald into stardom to become one of the most popular and beloved jazz singers in the world. With vocalization and improvisation, Ella learned to use her voice as an instrument, turning singing into an art form. Ella would become the most recorded female in history and earned countless prestigious awards. Throughout her career, Ella lent her voice to people in need and her foundation, The Ella Fitzgerald Charitable Foundation, provides aid to children and communities by fostering a love of music and reading. With her incomparable voice and spirit of determination, Ella Fitzgerald earned the title "First Lady of Song" and the adoration of fans across the generations.

Girls need more role models like Ella Fitzgerald because imagining they can be anything is just the beginning. Actually seeing that they can make all the difference.
The Ella Fitzgerald doll comes wearing a soft, glittery purple waisted gown with purple tulle fabric puffed sleeves and collar. A white plastic brooch is attached with string to the left dress top tulle decoration. The dress opens in the back with a strip of black Velcro. The dress is easily removed and there is no underwear underneath.
The eyes are a painted brown and yellow and the lips a dark red. The ears are adorned with white plastic removable stud earrings that plug into a hole in the ears. The black rooted hair is pulled up tight with a high curly bun on top. The finger nails are manicured with red paint.
The shoes are thick soled dark purple plastic heel-less pumps that are rubber banded on in the box to keep them from falling off. They do stay on but are easily dislodged. Around the knees are cardboard tubes to keep the articulated knees straight for display.
The doll comes with a mouth height silver plastic old fashioned stand microphone. It has a plastic hook near the microphone so you can clip it over the hand to keep it near. Also a plastic black base, clear stemmed doll stand and Mattel certificate of authenticity.
The doll is articulated at the wrists, elbow, shoulders, neck (up and down as well as turns 360 degrees), hips, and knees. She can do the front to back splits, but not side ones. The ankles and torso are fixed. No waist movement.
You can get current market prices for the Ella Fitzgerald doll by using this links. The Celebrity Doll Museum has affiliate accounts with Ebay and Amazon. The doll is currently (March 2020) back-ordered at Mattel for $29.99.