The Ulysses S. Grant celebrity doll depicts him as himself, the 18th President of the United States. The doll was manufactured by Toypresidents, Inc. in 2005. President Grant was a United States Army general during the Civil War. He was elected in 1868 and served two terms until 1877.
It is a talking doll that has an actor imitating President Grant's voice saying 25 unique and authentic phrases like:
I have acted in every instance from a conscientious desire to do what was right, constitutional, was in the law, and for the very best interest of whole people. Failures have been errors of judgement, not of intent.
and
Leave the matter of religion to the family altar, the church, and the private school, supported entirely from private contributions. Keep church and state forever separate.
and
There was never a time, when (in my opinion) some way could not be found to prevent a drawing of a sword.
by pushing on the lapel of the brown 1870s tailored Presidential suit. It also contains an official Toypresidents biographical pamphlet on President Grant and a black adjustable doll stand in the box insert. The 3 button batteries (LR44/L1154) are changeable. The doll is fully articulated at the major joints including wrists and ankles and very easy to pose.
Hear the President Ulysses S. Grant ToyPresident's audio track from the doll's speaker:
The clothing is exceptional on this Toypresidents doll with hand tailoring details that are true to the 1870s time period. Extras like tiny buttons and snaps sewn on, removable clothes, elastic stirrups keep pants down and shirt tucked in make it both a collectors doll and a doll to be played with.
The doll wears a soft brown polished cotton long suit coat with tiny black buttons on sleeve and front, closure by snaps. Matching brown pants with snap in front fly and black elastic suspenders with suede crossover and looped attachments complete the outfit.
Under the coat there is a brown satin vest, black silk bow tie with elastic attachment, white cotton collared shirt that open from neck to mid chest, and tiny decorative white buttons and closure by snap . No elastic tucking it in, unlike some of the Toypresients action figures manufactured earlier, so the batteries can be removed without taking off the pants. Pants can be removed over the brown boots (just barely) and it's likely the boots could be removed with a little heat on them.
The doll's underwear are plain white cotton boxers with an American flag on the rear.
The dolls body has black and gray molded hair and beard.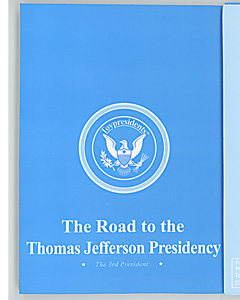 Read the official Toypresidents biographical pamphlet on President Ulysses S Grant in PDF format
To see the complete list of ToyPresidents and TimeCapsule dolls from Toypresidents, Inc original website in 2008, use this link.
Complete list of Toypresidents, Inc. dolls from 2008. – A screen capture from their website.