The John F Kennedy celebrity doll depicts him as the 35th President of the United States. The talking action figure was made by Toypresidents, Inc. in 2003.
The doll plays 25 different speech segments and phrases in JFK's voice when you press on the lapel. Examples are
And so my fellow Americans, ask not what your country can do for you, ask what you can do for your country.

The cost of freedom is always high, but Americans have always paid it.

We have the power to make this the best generation of mankind in the history of the world.
To hear the audio track recorded from the belly speaker:
The Kennedy doll is dressed in a complete 1:6 scale men's suit. A satin lined two button black pinstriped suit compete with suit pockets, white hanky in the lapel, two tiny black buttons on each cuff, and match black pinstriped pants with a snap fly, real side pockets, and elastic and suede leather suspenders tacked to the waist band.
The white collared dress shirt underneath has tiny little white buttons on the front with snap enclosures hidden underneath tiny imitation gold cuff lines are on the snap fasted shirt cuffs. A real solid light blue silk tie is knotted around the neck under the collar. It can be removed by loosening like a real tie. The shirt is attached at the bottom with an elastic strap so it stays tucked in the pants. The pants have to be removed to take the shirt completely off. Black dress shoes and black nylon socks cover the feet.
And finally underneath all that is white cotton boxer shorts with NAVY stamped across the rear in dark navy blue- a tribute to Kennedy's service.
The doll is fully articulated at the neck wrists, elbows, shoulders, neck, waist, hips, knees, and ankles. Head goes side to side and tilts. Waist twists with a little bend up and down. Shoulders and hips rotate 360 degrees. A three LR44 battery compartment is on the back with a stamped Toypresidents . On the front chest is the play button lined up where the lapel sits and holes for the speaker.
Accessories include an official Toypresidents biographical brochure called The Road to the John F Kennedy Presidency, The 35th Presidency and a black plastic doll stand.
The museum also has the GI Joe version of JFK and his first lady Jacqueline Bouvier Kennedy in the collection.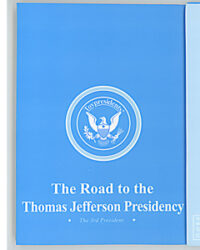 Read the official Toypresidents biographical pamphlet on John F Kennedy in PDF format
To see the complete list of ToyPresidents and TimeCapsule dolls from Toypresidents, Inc original website in 2008, use this link.
Complete list of Toypresidents, Inc. dolls from 2008. – A screen capture from their website.