Jacqueline Kennedy Onassis
The Jackie Kennedy Onassis celebrity doll portrays her when she was Jacqueline Bouvier Kennedy, the First Lady to President John F. Kennedy. It was made by Toypresidents, Inc. in 2005.
The Jacqueline Kennedy doll is a talking doll that plays 19 different recorded speeches and phrases in her voice like:
I don't think the White House ever can belong completely to one person. It belongs to the people of America, and I think whoever lives in it. The first lady should preserve its traditions and enhance it, and leave something of her self there.

Your vote is important to our children, our country and our world. You can help make the important decisions in the 60s for our country by voting for the new frontier.
by pressing a button on the back of the doll. The 3 button batteries (LR44/L1154) are changeable through a Phillips screwed in compartment below the button.
Hear the Jackie Kennedy Toypresident's doll audio track recorded from the belly speaker (The original recording quality is not the greatest on some of these.):
The doll wears a sleeveless orange satin dress with a knee-length full skirt and a matching orange satin bow at the waist. The dress is all one piece and closes by a snap and a strip of Velcro in the back. Underneath is a one piece camisole and off white nylon panty hose. The plastic beige low heal pumps are removable.
The doll is articulated at the neck, shoulders, twisting biceps, elbows, wrists, knees and ankles. The neck twists and tilts slightly. Body is one piece so no movement at the waist.
Included in the box is an official Toypresidents biographical pamphlet The Life of First Jacqueline Bouvier Kennedy and a black adjustable doll stand inside the box insert.
The museum collection also has two other First Ladies, Hillary Clinton and Laura Bush, as well as two versions of President John F. Kennedy dolls, the GI Joe version and the talking Toypresidents action figure.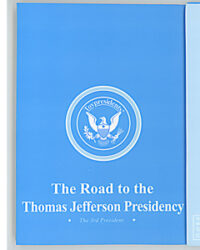 Read the official Toypresidents biographical pamphlet on Jacqueline Bouvier Kennedy in PDF format
To see the complete list of ToyPresidents and TimeCapsule dolls from Toypresidents, Inc original website in 2008, use this link.
Complete list of Toypresidents, Inc. dolls from 2008. – A screen capture from their website.