The Benjamin Franklin celebrity doll portrays him as himself, an American Founding Father, inventor, scientist, humorist, writer, and all around talented man. He lived from 1706 to 1790. The talking action figure was made as part of the TimeCapsule Toys collection by ToyPresidents, Inc. in 2005.
The talking Ben Franklin action figure plays 47 unique and authentic phrases in an actor's voice. It includes such classics as "Haste makes waste", "Fish and visitors smell in three days," and "Three may keep a secret–if two are dead." A button under the lapel of the suit plays one phrase with each push through a speaker in the belly of the doll. The speech box is powered by three button batteries (LR44/L1154) in a screwed in compartment on the back. The batteries are changeable.
To hear the TimeCapsule Toys Benjamin Franklin audio track recorded from the doll's belly speaker, click the play button:
From the box:
Benjamin Franklin

The collector quality Talking Action Figure.

47 unique and authentic phrases:

A new constitution is now established and has an appearance that promises permanency. Bu in this world….
A 20 years of age the will reins, at 30, the wit, and at 40, the judgment.
Idleness and pride tax with a heavier hand than kings and parliaments. If we can get rid of the former….
There was never a good war, nor a bad peace.
There is no kind of dishonesty into which otherwise good people more easily and frequently fall than that of…
Vessels large may venture more but little boats should keep near shore.
Energy and persistence conquer all things.
No nation was ever ruined by trade.
Haste makes waste.
Remember that time is money.
A penny saved is a penny earned.
He that goes a borrowing goes a sorrowing.
Necessity never made a good bargain.
A man may, if knows not how to save as he gets, keep his nose to the grindstone.
He who multiples riches multiplies cares.
Diligence is the mother of good luck.
Little strokes fell great oaks.
Kill no more pigeons that you can eat.
The great secret in succeeding in conversation is to admire little, to hear much….
If you would persuade, you must appeal to interest rather than intellect.
Does thou love life? Then do not squander time, for that's the stuff life is made of.
Early to bed, early to rise, makes a man healthy, wealthy, and wise.
Plough deep while sluggards sleep.
The sleeping fox catches no poultry.
To lengthen thy life, lessen thy meals.
Fish and visitors smell in three days.
Genius with education is like silver in the mine,
Hide not your talents, for use they were made. What's a sundial in the shade?
Experience keeps a dear school, but fools will learn in no other.
Some are weather wise, some are other wise.
If Jack's in love, he's no judge of Jill's beauty.
To find out a girl's faults, praise her to her girlfriends.
Three may keep a secret—if two of them are dead.
He that blows coals in quarrels that he has nothing to do with has no right to complain if the sparks fly in his face.
I think vital religion has always suffered when orthodoxy is more regarded than virtue. The scriptures assure me that…
I wish Christianity were more productive of good works. I mean real good works, not…
God helps them that help themselves.
We must indeed all hang together, or most assuredly, we shall all hang separately.
A country man between two lawyers is like a fish between two cats.
Have been poor is no shame, but being ashamed of it is.
Any fool can criticize, condemn, and complain—and most fools do.
Well done is better than well said.
Never confuse motion with action.
Think of these things: when you came, where you are going, and to who you must account.
Whatever is begun in anger ends in shame.
Be in general virtuous and you will be happy.
Where sense is wanting, everything is wanting.

Including the official Timecapsule Toys® Biographical pamphlet.
Featuring photographs and biological fact covering the Founding Father's life accomplishments from his early years to the
Declaration of Independence
The doll comes wearing a taupe suede period suit with matching jacket, vest, and knee-high pants. The jacket is knee length with a line gray cover buttons from collar to the bottom seam. It is unlined, has a stand up collar, and a snap closure. The long suede vest has the same covered buttons with half up the side on the right and half on the left side below the snap enclosure, giving the appearance of it being buttoned half way down. The vest is lined with gray silk, has to flap faux pockets with a decorative button, and has a ivory tan ribbon pulling it tight in the back. The suede Knickerbocker pants have side snap enclosures and three gray decorative buttons on the bottom sides.
Underneath is an ivory cotton shirt with a lace collar and attached silk lace trimmed scarf tie. The shirt snaps in the front and has faux gold cuff links over the snap closure of the cuffs. Matching ivory thigh-high stockings and brown plastic with gold buckle shoes finish the outfit. No underwear. All the clothing is removable.
With the doll comes an adjustable doll stand and a biographical pamphlet: The Life of Benjamin Franklin – Founding Father which includes a serial number.
The doll is fully articulated at the major joints including waist, wrists, and ankles and very easy to pose.
To get the current prices of the TimeCapsule Toys Benjamin Franklin talking action figure try these links (it was a limited run so the doll is not always available for sale):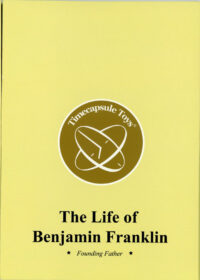 Read the Benjamin Franklin TimeCapsule Biographical Booklet in PDF format.
To see the complete list of ToyPresidents and TimeCapsule dolls from Toypresidents, Inc original website in 2008, use this link.
Complete list of Toypresidents, Inc. dolls from 2008. – A screen capture from their website.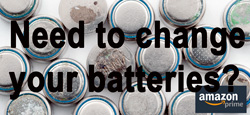 To see all the ToyPresidents/Timecapsule Inc. dolls in the Celebrity Doll Museum collection use this link.
Celebrity Doll Museum collection of ToyPresidents/Timecapsule Talking Action Figures.